TEAM GIFTING
Save time on gifting and create positive change
Choose from over 1,400 sustainable gifts
No need to collect delivery addresses
Give your recipient a choice of gifts
Meet everyone's unique preferences and dietary needs
Put your company's values where your gifts are
What is the gifting platform?
What is the gifting platform?
Our Team Gifting Platform is an easier way to send gifts with impact.
We've taken the hassle out of gift giving and made it easy to select multiple gift options for employees and clients, while showcasing the social impact of these products.
Book a demo
How does the platform work?
01
Create a collection of gifts within your budget.
02
Let recipients select their gift from your curated selection and input their address details.
03
Track the social impact created by your order.
Got a question?
We're here to support you through every step of the process.
Speak to one of our team and we would be pleased to get you set up or answer any questions you may have. Alternatively, why not drop us a note through our enquiry form.
What are the benefits?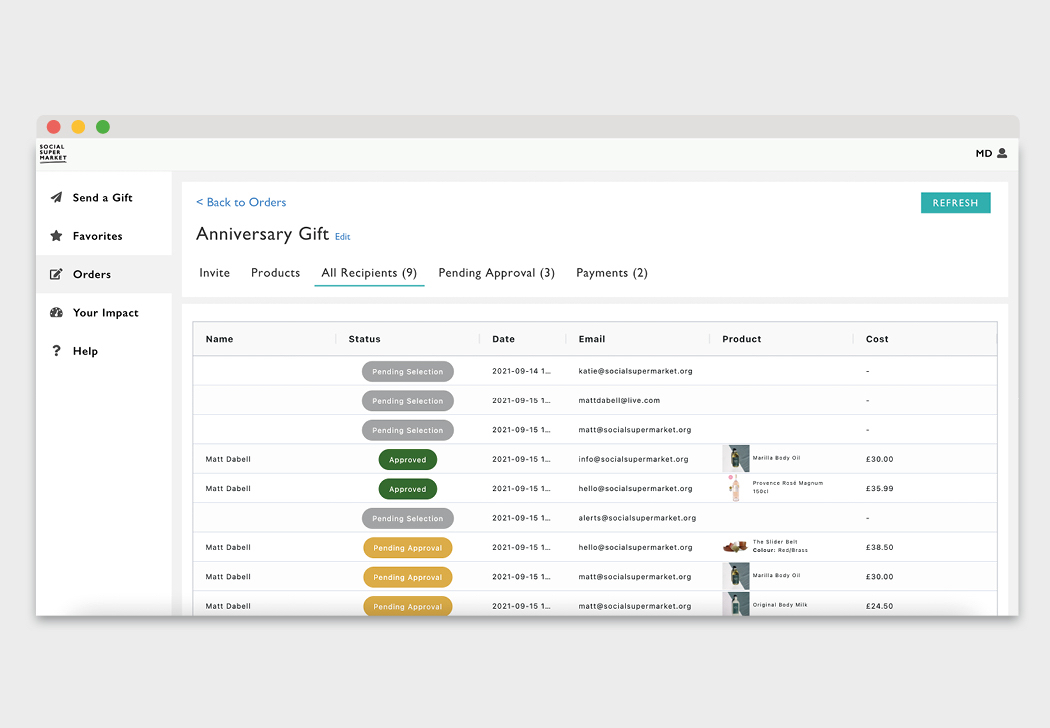 What are the benefits?
Ditch address spreadsheets
Let your recipients input the address where they'd like to receive their gift — and ditch long-winded address spreadsheets for good. You'll simply need to login to approve your recipients' gift selections – making getting around GDPR woes easy. We'll let you know when you have new selections to approve.
Let them choose their gift
Send your recipients an invite to claim a gift you'd like to send them, allowing them to easily accept or decline. No payment is required until they accept. They can even choose from a collection of gifts you create within your budget. We have items that meet every dietary need and preference – that means